Best Handgun for Women in 2023
Handguns for Women are becoming more and more of a normal thing in today's culture. There are a lot of messed up people out there, so sexual assaults, rapes, and violent crimes are still a real threat to women everywhere. You never know what is going to happen. But what is the 'Best Handgun for Women' to carry with them to protect themselves? A gun for women is a completely different thing than one for men, mostly because of hand size and strength. It's much more comfortable for women to shoot a smaller-sized gun, with a lighter trigger pull and smaller recoil than a standard-sized semi-auto handgun. But what is the best handgun for women?
We've used the categories of size, caliber, reliability, and looks as the determining factors in choosing a gun for women. With these categories in mind, we've chosen the Smith and Wesson Model 637 as the Best Handgun for Women. The second-place gun in this category would be the Charter Arms Pink Lady.
Size
The size of this gun is perfect for women to carry with them in purses or handbags. With only a 1 7/8" barrel, this 'snub nose' gun is easy to take in and out of any bag. It's also a smaller framed gun, so it will feel really good in women's hands. The gun itself is only 15 oz, which makes it easy to throw in a bag and carry daily. It'll even fit in a jacket pocket or tucked-in pants.
Caliber
The Smith and Wesson 637 shoots a 38 special round, which is a good self-defense round. This type of gun is carried by many law enforcement personnel as a concealed weapon, and the 38 special has also become synonymous with mob assassinations. The .38 Special round easily packs enough punch to be effective at stopping attackers and is a readily available and decently cheap round to purchase. Its recoil is also not terribly bad, so it is compatible with weaker female hands. Another point for the S&W 637 being the Best Handgun for Women
Reliability
A Smith and Wesson revolver is one of the most reliable guns you can buy. Revolvers are traditionally very reliable, and Smith and Wesson are considered the Best Revolver Brand out there today. This section is also where the Smith and Wesson 637 beat out the Charter Arms Pink Lady. Many people are very unhappy with the reliability of the Pink Lady, and it over feels like a cheaper gun. You will not go wrong with an S&W 637 when it comes to reliability.
Looks
When choosing a gun for women, looks are usually more important to them than the function of the gun. That's another area where Smith and Wesson Revolvers hit it spot on. The Smith and Wesson 637 with pink grips is the ultimate women's gun because it was designed especially for women. To women, it really makes owning a gun more fun, as well as personal, because the gun was made for them.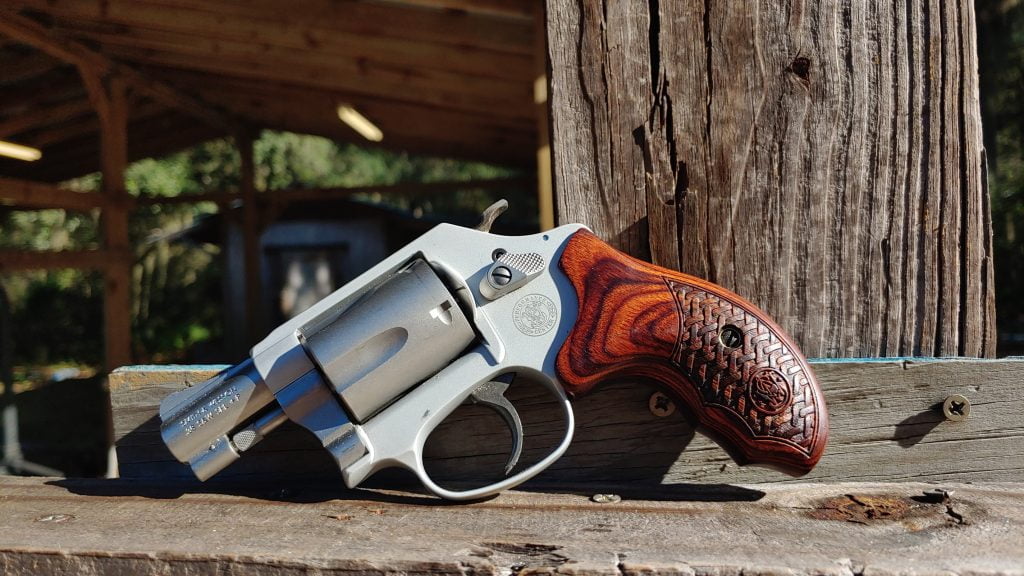 The bottom line on the 'Best Handgun for Women' is that the Smith and Wesson 637 makes having and carrying a gun a fun and cool thing. With the world seemingly getting to be a more dangerous place, having that self-defense handgun is very important for women to avoid being abducted, attacked, and harmed. It is a good idea for women to look into these guns, and guys, definitely look at getting on for your mothers, wives, or daughters. It's the best way for them to protect themselves from danger and harm. There's no reason to take a chance with their safety. Make buying a gun and becoming comfortable with it a priority for any special woman in your life. It could just be the one thing that saves them from harm.
https://po8.io/wp-content/uploads/2023/01/beautiful-woman-holding-up-her-gun-Handgun-for-Women.jpg
800
1200
Quinton Milsap
https://po8.io/wp-content/uploads/2023/01/po8_logo_dark.png
Quinton Milsap
2023-01-22 08:31:09
2023-01-22 09:22:04
Best Handgun for Women in 2023